Understanding Viruses
Touro Alum Ben Katz, MD, Examines When the Epstein-Barr Virus Becomes Deadly
November 04, 2022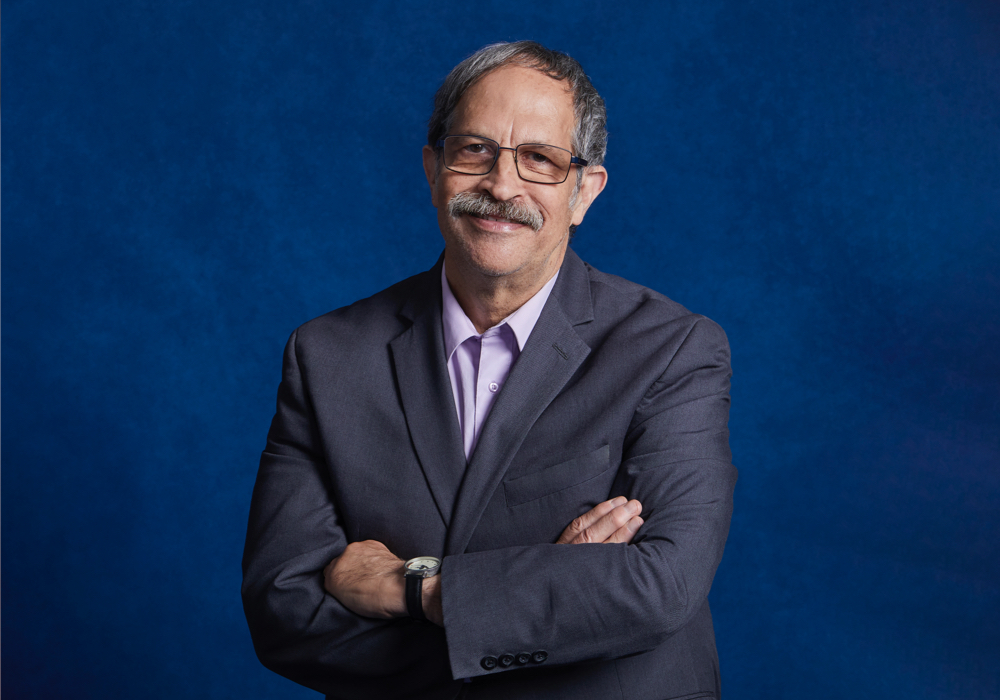 Touro alum Ben Katz, MD, has spent more than almost forty years trying to unravel the central mystery of a common virus.
The virus, known as the Epstein-Barr, a member of the herpes virus family, is mostly known for causing the infection of mononucleosis, commonly known as mono. In most situations, the virus is harmless, but in rare cases, Epstein-Barr also causes or can lead to a host of other serious diseases including cancer, chronic fatigue syndrome, and possibly multiple sclerosis. The reason why the virus causes complications is unclear, but the answer has the potential to change the medical landscape.
"A virus is trying to survive without killing the host," explained Dr. Katz, the valedictorian of Touro's second class. "When a person dies because of a virus, it's as much of a tragedy for the virus as it is for the person. The goal of the virus is not to kill the host but replicate and not bother the host. When it does something to damage the host and even kill the host—I'm trying to understand why that happens."
Since he began his career as a pediatric infectious disease specialist and researcher, Dr. Katz has received more than $10 million in grants from prestigious research foundations such as the NIH; he published papers at a frenetic pace and earned accolades from nearly every quarter of the medical establishment. Looking back on his productive career, Dr. Katz traced its roots to the excellent education he received in his undergraduate days as a student in Touro.
The Best and the Brightest
"Dr. Bernard Lander was an incredible builder," remembered Dr. Katz, who joined the school in 1972. "I grew up in Forest Hills and I was friends with his children. My parents were friendly with Dr. Lander. Dr. Lander recruited bright kids to go to his brand-new school and offered generous scholarships."
"And if it didn't go well," he added with a laugh. "I always figured I could transfer out in six months."
Needless to say, Dr. Katz did not transfer out and half a century later, Dr. Katz can still easily rattle off the names of the instructors who impacted him. (His professors included Dr. Danishefsky, whose son teaches at Lander College for Men. Dr. Katz took classes that were broad in scope ranging from chemistry to Medieval Hebrew poetry)
"Touro is where I became an intellectual adult," Dr. Katz related. "The school taught me how to write and think critically. Even in aspects of my Judaism, the school fostered my ability to think academically and rationally."
During his time at the university, Dr. Katz focused on the hard sciences. "I enjoyed every class I took, but I loved math and the sciences," he said. "I was fairly open to a lot of careers, but I wanted to do something in STEM. I realized that if I attended medical school, I could do full-time research and work with patients."
A Promising Medical Career
After graduating, he entered NYU School of Medicine, becoming one of the first of many Touro students to attend medical school.
"Touro prepared me very well," said Dr. Katz who roomed in NYU with a fellow Touro student. "I felt I had a great education; I knew my material."
Dr. Katz stayed at the school's hospital for a residency in pediatrics after completing his studies in 1980. Following his residency, he moved to Yale University where he did a fellowship in infectious diseases.
"I've always loved children and the developmental aspect of pediatrics is endlessly fascinating," Dr. Katz explained about his choice of specialty. "Every parent watches their children grow up and to be able to see development on a broad scale is enthralling."
While he initially considered specializing in a field like neurology, he found the idea of focusing on one field anathema to his omnivorous intellectual interests.
"There isn't as much to do," said Dr. Katz. "Infectious diseases cover the whole body, and you get to practice really good medicine. In a way, it's like being a detective. You get to ask questions like: Where did the infection come from? Where is it going and where is it hiding in the body?"
(Yale had an additional benefit: it was a close drive to New York where his girlfriend and future wife lived, whom he had met at a Purim party thrown by a Touro classmate.)
His time at Yale coincided with the AIDS epidemic and Dr. Katz found himself drafted into the battle against the disease, which helped foster his nascent interest in virology.
An Expert in Chicago
After spending eight years at Yale, four as a junior faculty member there and receiving the first of what would be many grants from the National Institute of Health, Dr. Katz was recruited by Chicago's Northwestern University in 1991. He has remained at the institution since, dividing his time between conducting research, practicing as a clinician in the Ann & Robert H. Lurie Children's Hospital of Chicago, and teaching medical students at the Feinberg School of Medicine.
Since 2013, his work has received continuous funding from the National Institute of Health, looking into the relationship between mono and chronic fatigue syndrome. He has published more than 200 articles in journals including the New England Journal of Medicine, Frontiers in Molecular Neuroscience, and JAMA Pediatrics. In addition, he has received awards for faculty excellence more than a dozen times. And as the COVID-19 pandemic began, Dr. Katz became a much-needed and trusted resource for his Jewish community.
A Renaissance and Touro Man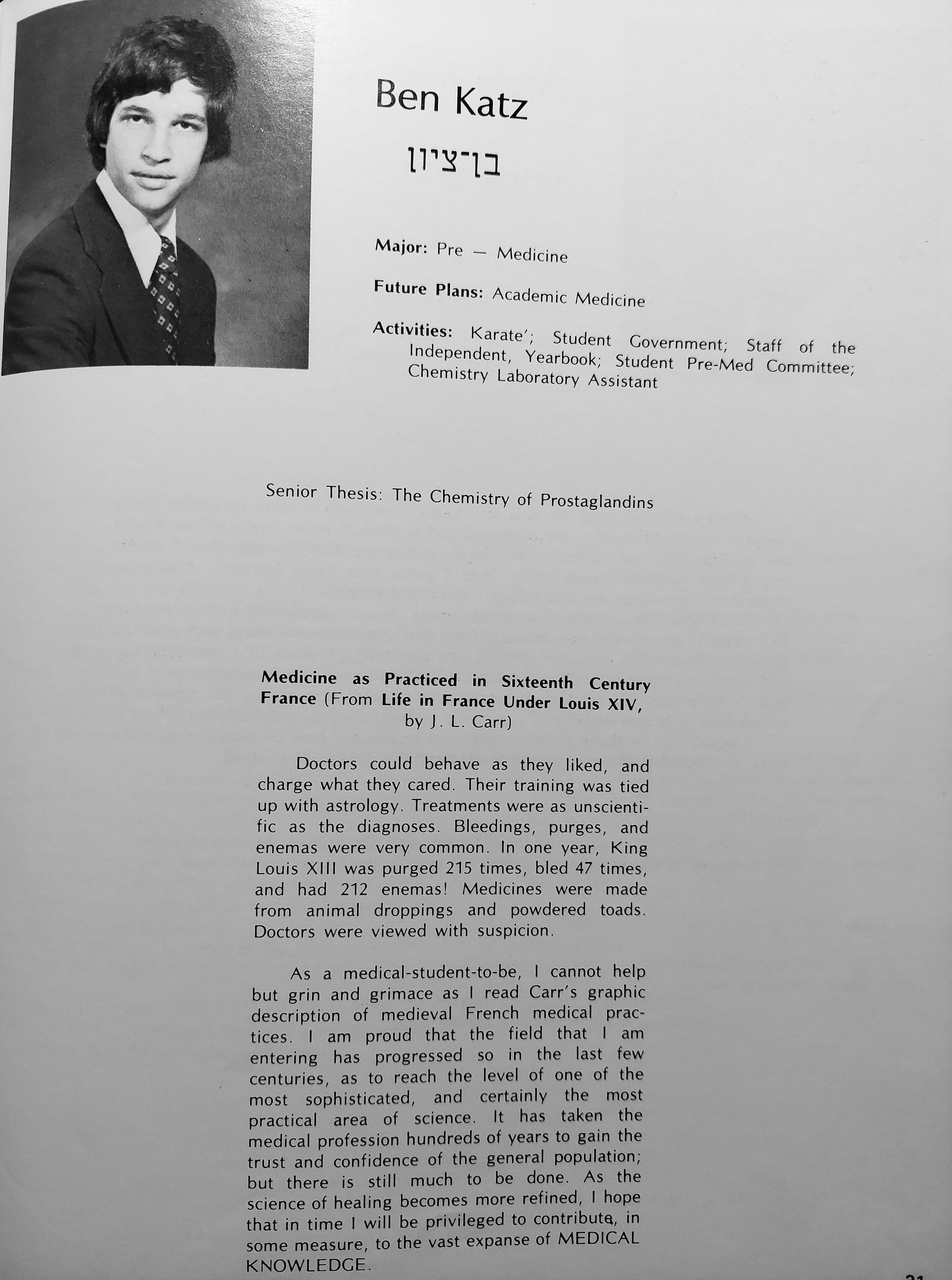 Dr. Ben Katz's Touro yearbook page
While he was modest about the many discoveries he's made in the medical field (including being the lead author on a paper that examined Epstein-Barr's effect on white blood cells), he said he was most proud of some of his intellectual accomplishments outside of the medical field—which he also attributed to his intellectual formation at Touro—like the two books he wrote on Judaic topics, one on Bible scholarship and the second on his role-model, the Jewish physician and polymath, the Rambam.
"He was the smartest Jew who ever lived," said Dr. Katz. "He was an astounding character. You have to consider how the Rambam approaches modernity: with him it was the reintroduction of Greek philosophy, with us, it's genetics and evolution. The Rambam would reconcile truth with truth and would make them fit. His way is a paradigm for understanding modernity at any age."
And Dr. Katz, through his contributions to both the medical and Jewish communities, hews close to the life of his role model and serves as a paradigm of Touro's mission of creating leaders who have an impact in their communities.