Thinking on Her Feet
Medical Social Worker and GSSW Alumna, Georgia Van Cooten, LMSW, Translates for Patients
March 30, 2022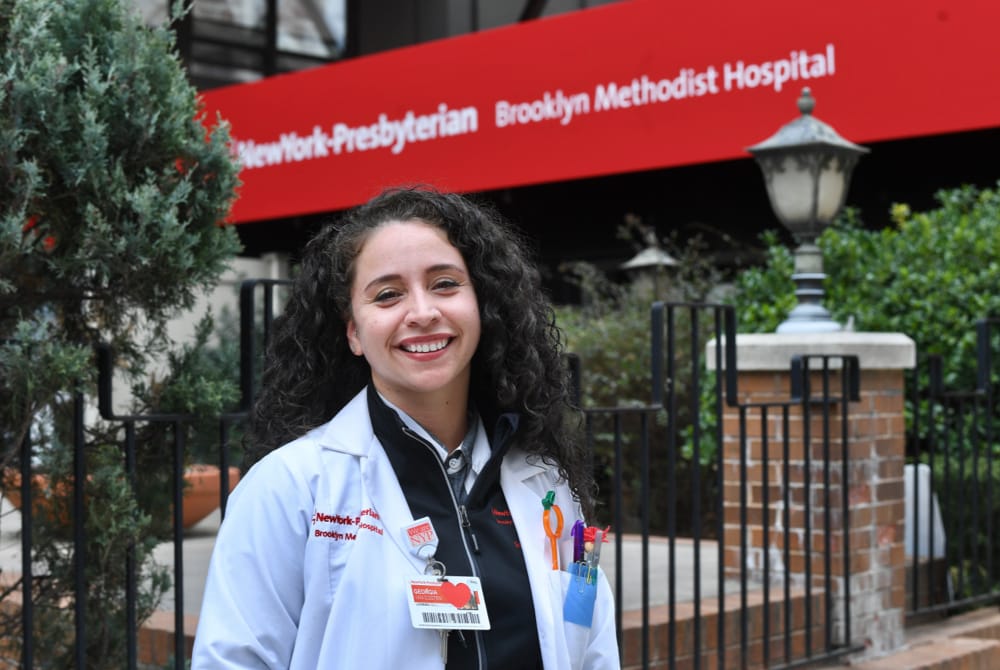 Georgia Van Cooten, LMSW
Peer into New York Presbyterian Brooklyn Methodist Hospital any day of the week and you're likely to see Touro Graduate School of Social Work (GSSW) alumna Georgia Van Cooten, LMSW, hard at work, two phones pressed to her ear with the intercom sounding her name. It's an average day for Georgia and she wouldn't have it any other way.
"I love my job," said Georgia who is a medical social worker in the hospital. "It's very challenging. I never know what I'm going to walk into and there's never a dull moment. I never have the same day twice. I think on my feet; ready for whatever walks through the door."
Georgia graduated from Brooklyn College in 2014 with a degree in sociology. Inspired by her mother, a nurse, Georgia decided to enter the medical field. She was squeamish about blood, so Georgia realized that treating people's mental health was her best option. She chose GSSW.
"I wanted to stay in Brooklyn, and I liked how the program had flexibility," explained Georgia who held down several jobs while a student including waitressing and bartending, the latter of which she likened to informal social work.
For her first fieldwork externship, Georgia worked with a social agency for the visually impaired. In her subsequent fieldwork externship, she provided reproductive health counseling in an underserved high school in Brooklyn.
"I loved talking about experiences in the field with my classmates," Georgia recalled. "I loved coming together every week and learning how we each managed some of the difficulties we faced. I miss that sense of community."
After she graduated, Georgia worked as a social worker for the Brooklyn Center for Families in Crisis and ran self-esteem groups for girls through the Hance Family Foundation. In 2018, she applied to New York Presbyterian Brooklyn Methodist Hospital.
"I came to the interview from a strength-based perspective," recalled Georgia. "I didn't have any medical experience, so I spoke about the skills I did have: my social work knowledge, experience, communication and organizational skills."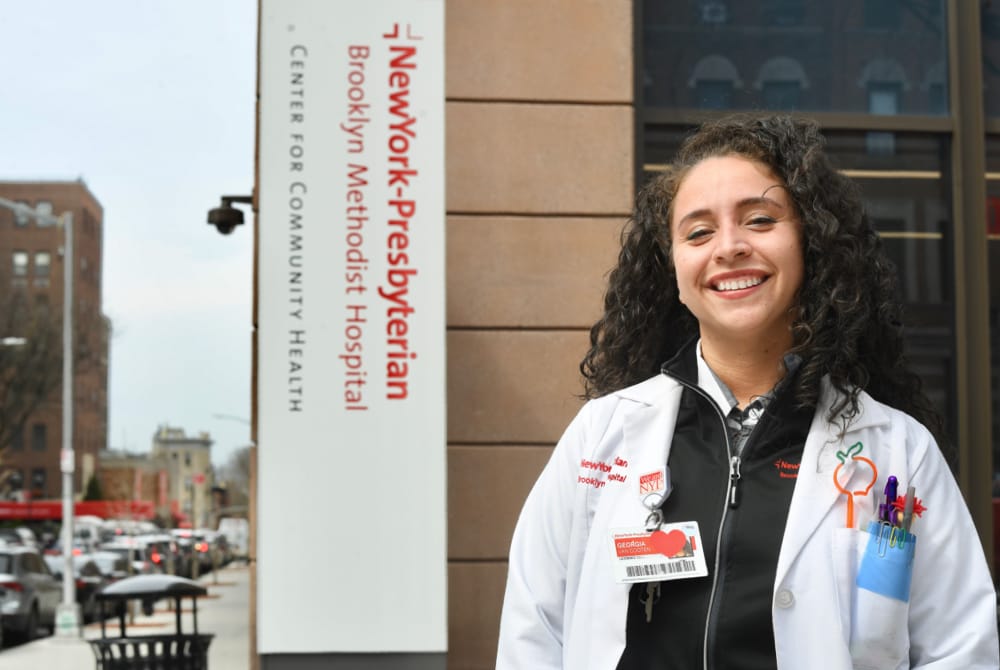 As a medical social worker, Georgia works as part of a floating interdisciplinary team that deals with how patients are discharged from the hospital system. "It's as if I'm the go-between for the doctors, patients, and their families," she said. "I help patients figure out how to manage living with their medical conditions and find the support they need both in and out of the hospital."
"They can float us into any unit—we do a bit of everything. The type of unit I work on varies from NICU, Pediatrics, Post-Surgery, Oncology- the list goes on," she continued. "It's a little bit of everything. We put the puzzle together: how can we help the patient medically and set them up for success when they leave the hospital? We have to make it happen and that means juggling patients' individual needs, insurance companies, and community care providers."
The day we spoke, Georgia dealt with a patient who caught COVID while undergoing a stay in a residential alcohol treatment facility. Due to his COVID status, the rehabilitation center refused to re-admit him. "We had to figure out where we could discharge him to in order to receive the medical and behavioral care that he was actively seeking," said Georgia.
Georgia described working during the COVID pandemic as harrowing.
"We were seeing things that no schooling or internship could train you for," said Georgia. "Our ambulance bay had a refrigerated truck that acted as a morgue. People waited hours to be admitted to the hospital and our ICU was filled."
The experience brought back a lesson she took from Touro and one she advises all social workers to keep in mind.
"Our professors would always ask us: How are you doing? How are you managing? What are you doing to take care of yourself?" said Georgia. "As social workers, we can't pour from an empty cup. I encourage people who are in school to really make it a priority to come up with a self-care plan and stick to it. One of the first things I figured out was my support system. I have a wonderful family and good friends. When I find myself getting overwhelmed, I take a walk, even if it's just a walk up and down the stairs."
"No matter what happens we need to uphold the human aspects of our profession," Georgia concluded. "These are people, not just patients on our daily list. I try to think how I would feel if I were in their shoes. I try to think: 'What can I offer and how can we help you despite the limitations we're all experiencing?'"