The Art and Science of Physical Therapy
In His Physical Therapy Clinics, Lynn Berman Puts His Patients First
December 14, 2022
There are lots of individual moments, those goosebump moments, when someone will put their trust in you.

I remember there was this one older gentleman who had run so many marathons over the course of his life. And one of the things that he had said to me is that he just wanted to be able to walk up and down the stairs without any pain. And I said to him, I was like, well, let's start with that. But then let's get you back to running some races.

And he never ran marathons again. But he was able to run a 5K once. That was one of those moments
where I realized the impact that I was making on people.

My name is Lynn Berman. I graduated in 2009 from Touro with my doctorate in physical therapy.

I'm the owner of Spring Forward Physical Therapy. I'm also a physical therapist here.

Our practice is founded on this idea that really started in my thinking at Touro, where we really wanted to try to become something that was known for quality, something better than what's just typical.

One of the things that I tried to do from the very beginning was to create a level of friendship
where we could be their trusted advisors to the process. So we could help them get to the root cause of their injury instead of just making them feel better for the time being.

The diagnosis never determines the plan of care. So much of it is learned from the patient, exactly what the struggle is with that diagnosis, how they're struggling with their particular injury.

You can understand what it is that they have on the line, what's at stake.

Effective listening is one of the most important tools that you can have. And that's how you can
understand how you really want to be able to effectively treat them and motivate them to really create the optimal outcome.

With the right approach, you can really help not only someone's body but really help their mind achieve a level of wellness they didn't have before.

This will not only help it but it will also make it feel better. So it's great to feel
better, but we actually want it to be well.

15 years ago, I made the decision to go to Touro. And looking back now, it's funny to think about the decision because now I realize that it was not just a decision. It was the right choice.

Touro did an amazing job of bringing the clinic into the classroom. I didn't want to just gain knowledge. I really wanted to become a great clinician. Touro really focused on you as an individual student and not just as a mass room of faceless students.

That was a building block of something that we utilize here, seeing every patient as an individual. The teachers did a really good job at Touro of teaching me to not just do things just as they are but how you really want them to be.

I think it's so meaningful to have people come to you and turn over their greatest vulnerability. And knowing that I'm going to help them, and they're going to leave better than they came in.
Patients visiting one of Spring Forward Physical Therapy's offices meet with dedicated and caring professionals interested in helping them as individuals rather than a set of symptoms. "Physical therapy is a combination of art and science, where the pain is often the warning sign but not the cause of the injury," said Spring Forward's founder Lynn Berman, DPT, a 2009 graduate of Touro's School of Health Sciences Doctor of Physical Therapy Program.
The clinic, which has two brick-and-mortar locations, one in Midtown Manhattan and another in the Financial District, alongside a third office providing services to a large law firm in Rockefeller Center, is Berman's brainchild.
"One of the things that I always wanted with owning my own practice is that our goal was never to be the biggest or in the most locations," recalled Berman. "I wanted to offer the best standard of care. And by owning the practice, I knew I would be able to make sure we achieve that goal."
Choosing Touro to Become a Clinician
After graduating from Boston College and an initial foray into writing for television and radio, Berman felt unsatisfied and contemplated medical school. Two physicians in his family urged a different path: "After hearing my desires of why I wanted to go into healthcare they convinced me that I should look into physical therapy because I really wanted to help people through the arc of their problem," said Berman. "I wanted to get to know people that I wouldn't otherwise and to really find friendships throughout my day in places where I wasn't expecting."
He chose Touro's School of Health Sciences.
"I liked the idea that this school had a long history of being a doctoral program," remembered Berman. "I didn't want to be a part of a guinea pig kind of program. I liked the idea of being able to have that rich history of the doctoral program. While at the same time, I think that Touro did an amazing job of bringing the clinic into the classroom."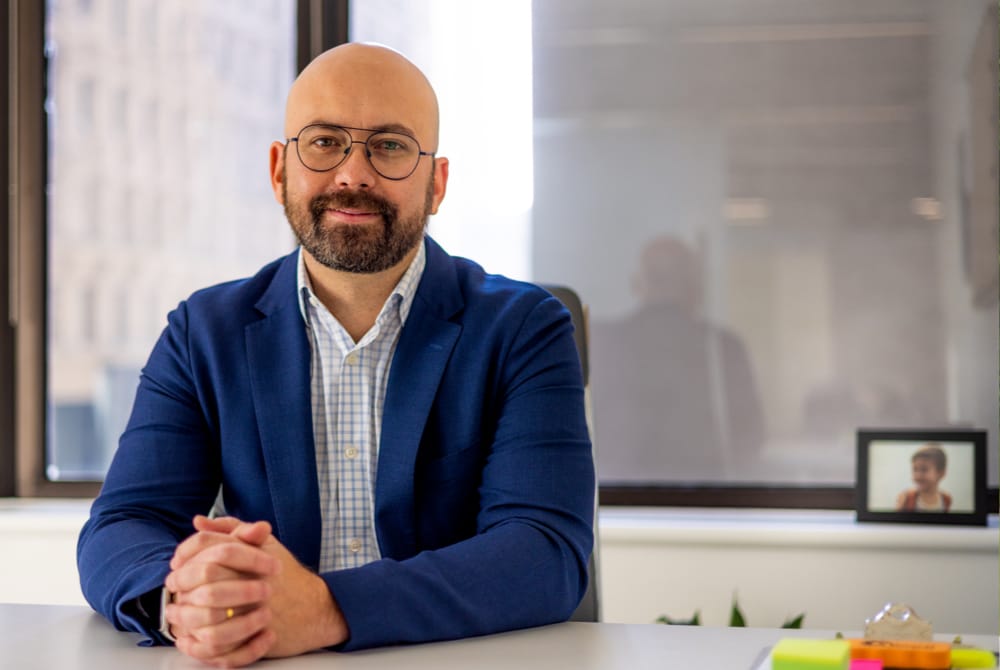 That focus on how to be a clinician was especially important for Berman.
"Becoming a physical therapist for me wasn't about gaining knowledge—I really wanted to be a great clinician," continued Berman. "So, if we had a class in hand therapy, it was taught by a certified hand therapist. You could tell that Touro teachers were really top-notch. When I chose Touro, I was really excited about it because I just knew that all the things that I was looking for in a doctoral program were going to be there."
Berman appreciated how engaged Touro professors were in helping their students reach their goals.
"Touro saw the individual in all of us," said Berman. "They wanted us to succeed, not in just our classes, but in what we wanted from our careers. I fell in love with the community and how the school supports students in their life plans, not just the courses we were taking."
Springing Forward
Working as a physical therapist was everything Berman hoped it would be. "I love working with my patients," he explained. "No day is the same and I meet such a wide spectrum of interesting individuals—ranging from billionaires to bus drivers and we help them all."
In 2012, after spending three years as a physical therapist in a prominent NYC clinic, he launched Spring Forward.
"The thing that's really important between a patient and a physical therapist is the trust and belief that a patient puts in his or her therapist," said Berman. "A lot of times in healthcare, there's a fear that sometimes the advice you might be getting is financially motivated. The thing that we are able to do in our clinics is to showcase to the patient that we're going to be here for you and be able to advise you. And it's a level of trust and friendship that really helps to drive that."
The practice has steadily expanded and Berman credits this to the relationship he develops with his patients.
"One of the most effective tools a physical therapist has is being a good and effective listener," stated Berman. "You need to really listen to what the patient says to understand the bigger picture."
Berman likens the pain his patients experience to a smoke detector going off.
"When a smoke detector goes off, you don't just take out the batteries: you put out the fire," said Berman, adding that the pain is typically the symptom of something larger and more complicated. "We have a close relationship with our patients, like an old-school family doctor's office. So much of injuries are emotional and not just physical and we really try to take care of them at the source. We don't only want to make our patients feel better, we want to make them well."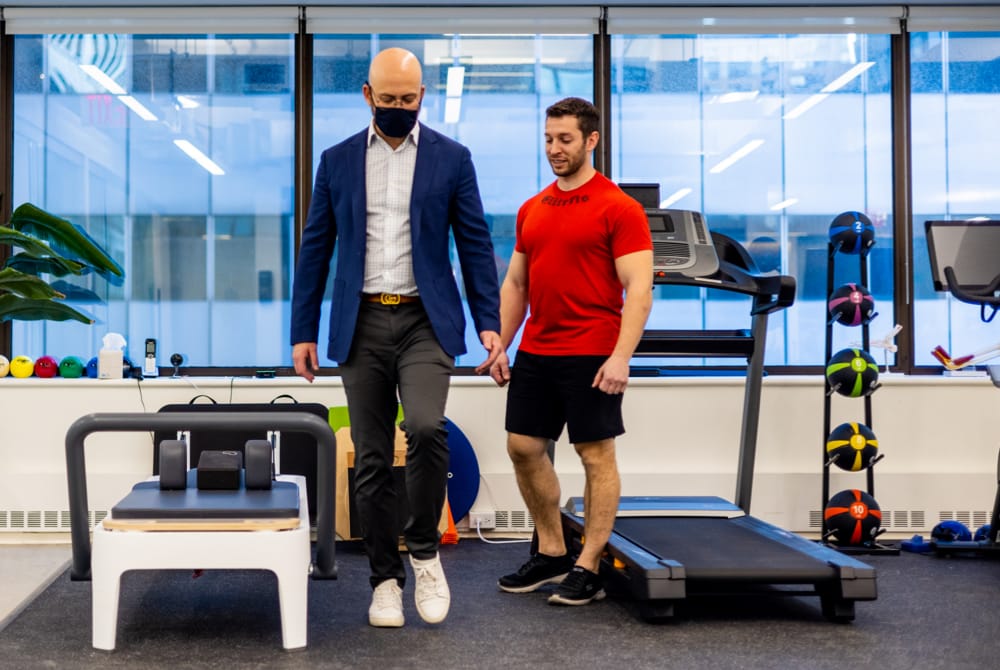 One of Berman's most memorable experiences in his practice was treating a man in his late eighties who had been a marathon runner. The man hadn't been able to run for years, but Berman and his clinicians managed to help him start jogging and eventually complete a 5K. When Berman decided to take up running and participated in a marathon, his patient drove in to cheer him on.
"I just have an overwhelming sense of gratitude to Touro for everything that it gave me foundationally and which really helped to be a foundational point of our mission statement," Berman concluded. "I'm just very grateful to Touro for everything that it did for me as a student, but also as an alumnus. I'm very proud of that decision that I made years ago. Looking back now, it's funny to think about the decision because now I realize that it was not just a decision, it was the right choice."