"I Was Called for This"
Dr. Coralanne Griffith-Hunte Fights for Trauma Survivors and Combats Human Trafficking
February 06, 2023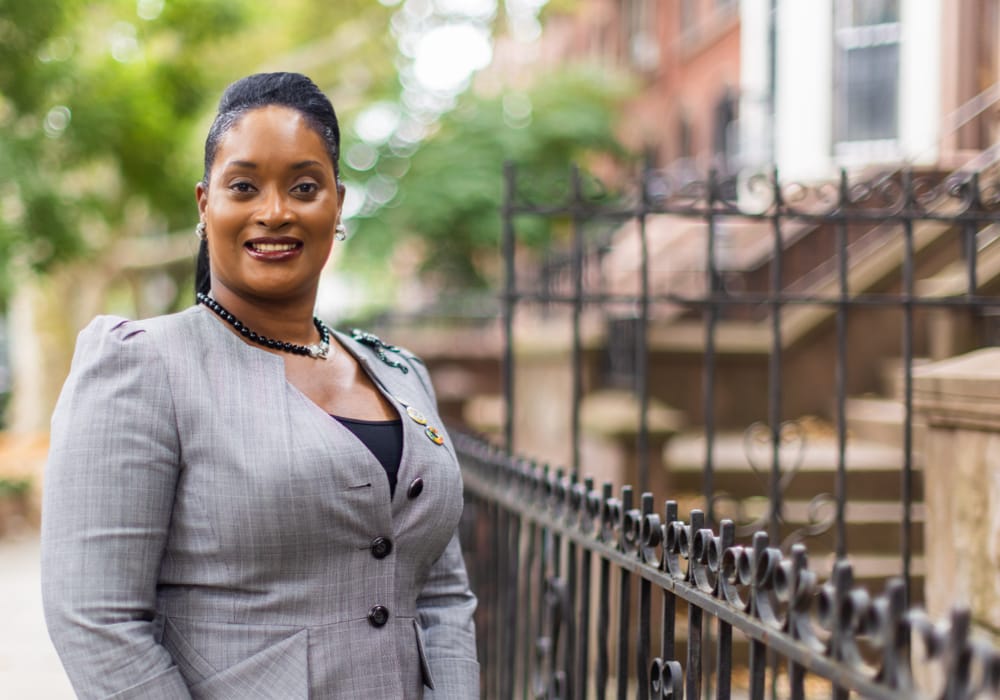 Coralanne Griffith-Hunte, Psy.D., had an idyllic childhood with her family that taught her the values of caring and community, but even the best parents can't prevent all tragedies. As a five-year-old, Dr. Griffith-Hunte was molested. She recovered thanks to the support of her friends and family. And now this alumna of Touro University Worldwide works to ensure others have that same support.
"We don't experience life without some form of trauma or hardship occurring to us," explained Dr. Griffith-Hunte, a graduate of Touro University's online Psy.D. program in human and organizational psychology. "The good thing for me was that after I experienced trauma, I had a strong support system. I needed people to see my pain; I needed people to form a community of trust around me and to know I wasn't alone. As I got older, I questioned myself: what about the other young people, the other children who experienced something and did not have the same support system that I had? How could I now be that support system for them?"
Through her work as the founder and chairwoman of the Created for Greatness Leader Group, Dr. Griffith-Hunte has helped hundreds recover from trauma, worked with local and global legislators on improving trauma care, and helped develop legislation to help support trauma survivors. In addition, she has helped thousands of New York residents through various grassroot initiatives ranging from helping prisoners re-acclimate to society to coat drives for children in need.
"Those who have been traumatized don't have to be defined by their violation," said Dr. Griffith-Hunte, who is also a community faith-based leader. "I think that was so pivotal for me, having other people understand you're not what has happened to you. So, my experience is what propelled me. The experience, not just the violation, but the experience of the village showing up, the people in my life believing me, surrounding me, and providing me with the tools to thrive."
"I was called for this," continued Dr. Griffith-Hunte. "It's not a career, it's not a job, it is my purpose. It is my calling on the earth to be able to help individuals ascertain the tools they need to live a better life."
A Setback and a New Beginning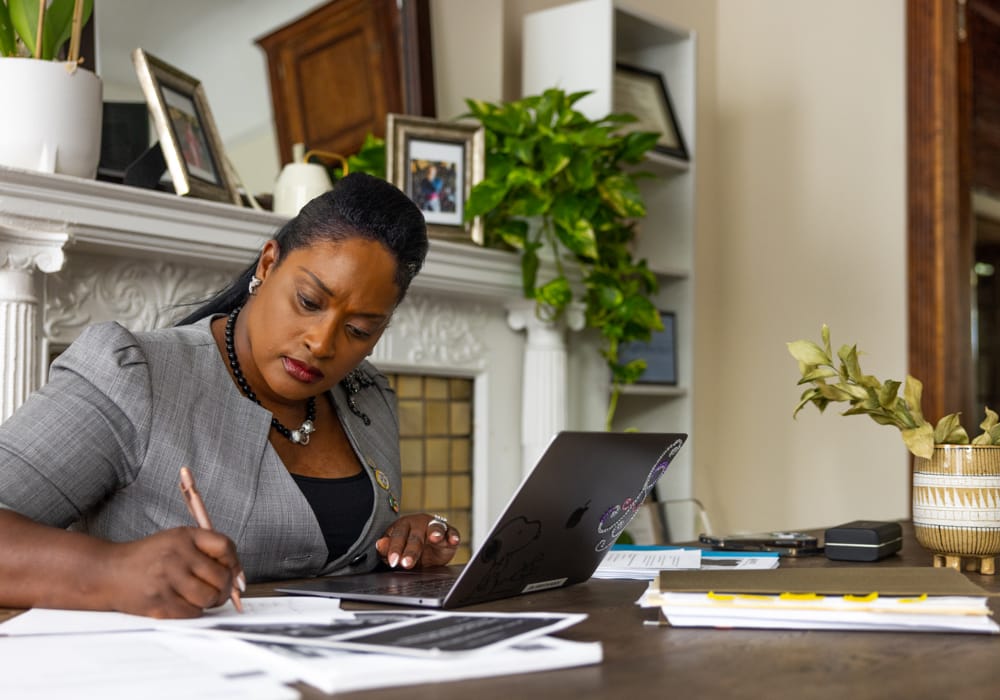 As Dr. Griffith-Hunte was reaching the peak of her career in her mid-thirties, she suddenly found herself bedridden by fibromyalgia, cancer, and the consequences of years of back surgeries. "I was lying in bed in a brain fog," remembered Dr. Griffith-Hunte. "I would try to spell simple words in my mind like cat, but I couldn't. I'm a minister as well so I'm praying to God while I'm crying and what I heard was, 'Go to school, go back to school. Go back to school.'"
She discovered Touro University Worldwide online and learned that she could earn a degree while still at home.
"Attending Touro wasn't just going to some university," stated Dr. Griffith-Hunte. "It was personal. It had to be the place where I could get my brain working again. Though I was lying in bed, I was not going to lie down and just die. I was going to fight for my life, and I was going to fight to regain and even surpass what I did previously. But I needed the ideal university that would help me along this journey, and it was a tough journey."
Dr. Griffith-Hunt's immediately felt the warmth the school offered during her interview for the program.
"That phone call was long," she laughed. "I had a lot of questions. I did not feel as though I was being a bother. I felt as though that person really wanted to make me not just know about the university itself, but make me feel comfortable to know that was the ideal place for me with all that I was going through at the time."
During the four years she spent in the program, she formed a close relationship with her professor Dr. Aldwin Domingo.
"Each of my professors was absolutely wonderful," recalled Dr. Griffith-Hunte. "But to this day I talk about Dr. Domingo. He pulled out of me things that I didn't even know were inside of me. He compelled me to study to be the best, and to do what was necessary since I am dealing with human lives."
"When I walk in the chambers of the senate, congress, and I sit with members of the United Nations, I take him with me," continued Dr. Griffith-Hunte. "In that time when I needed that mentorship, he answered the call. At the time when I didn't know if my brain would work with me, without him even knowing, he helped me to get all those pieces back together."
Graduation and a Landmark Achievement
Dr. Griffith-Hunte earned her Ph.D. in 2018. This was also the year that the New York Senate passed the landmark End Child Sex Trafficking Bill, a bill that Dr. Griffith-Hunte had been instrumental in advocating for.
"I'm proud that my name is connected to that bill," she said. "This is how I serve my community."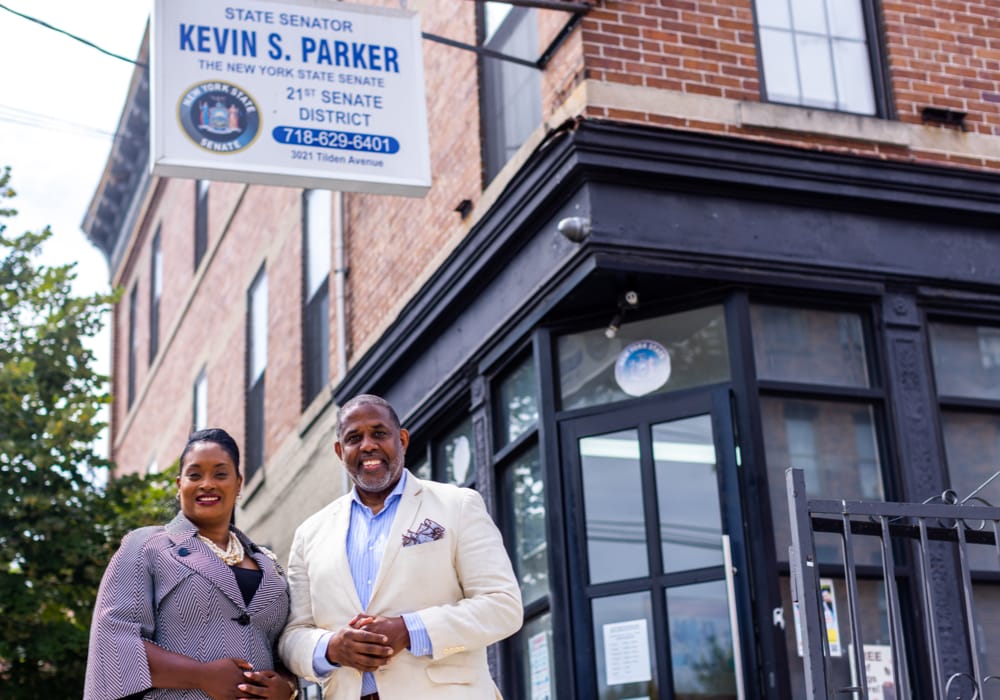 Dr. Griffith-Hunte with New York State Senator Kevin Parker, with whom she has worked with on various mental health initiatives, including the child sex trafficking bill
The bill makes it easier for prosecutors to charge criminals with human trafficking; requires hotels to provide information about human trafficking to potential trafficking victims; and provide additional support for victims of human trafficking.
During her long career, Dr. Griffith-Hunte has earned a dizzying number of accolades: she received the New York State Senate 2019 Woman of Distinction Award and the 2019 Humanitarian Award; in 2020, she joined the United Nations 58th Commission for Social Development to end homelessness and assisted in developing the UN's Resolution on Homelessness. In 2021, she spoke in Switzerland at the Geneva Centre for Human Rights Advancement and Global Dialogue, and was featured in Forbes magazine in May 2021 for her expertise on the effects of mass incarceration and post-traumatic prison disorder.
Dr. Griffith-Hunte's relentless drive continued in 2022. She was acknowledged by the directorship under the Biden/Harris administration and spoke to various directors of the administration about her work as a Trauma-Informed Psychologist and preventing human trafficking; she accepted an invitation to join the Health and Human Services Partnership Center's Director's Committee for Mental Health and Youth Think Tank; and she consults on human trafficking on the Ukrainian border upon the request of the Ambassador of the Sovereign Order of Malta to the United Nations; Dr. Griffith-Hunte's and the UNITAS team won the 2022 Gold Anthem Award for Best Strategy in Human Trafficking Prevention Education Curriculum.
"Touro absolutely was part of the foundational pillar for the career that I have right now," she said. "I'm proud of my Touro badge. I graduated with the skillset that I needed to function in the capacity that I am in right now. I'm very proud to be a Touro University graduate."