"Going to Touro Was the Best Decision I Ever Made"
Touro's PA Program Launched Dr. Linda Korman Spiegel's Medical Career
January 31, 2022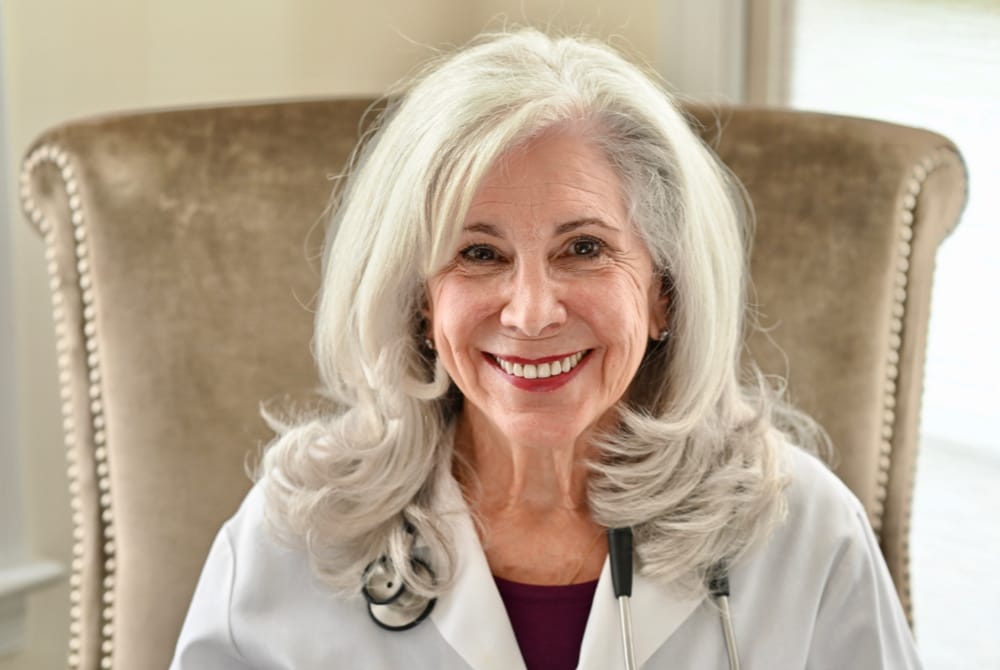 Almost fifty years ago, a young woman pondered her next step. She was a student at Rutgers University; she had heard about the PA field through a college course catalog, but her university didn't offer it yet. Her brother-in-law spied an advertisement in a local Jewish paper for a physician assistant program run by a new school called Touro.
"I was pretty fearless," recalled the woman, Linda Korman, MD, CPE, FACP. "I would do anything, travel anywhere. But I was afraid of travelling to Brooklyn for the interview," she laughed. "It wasn't the best area at the time, so I asked my father to take me. I got in and going to Touro was the best decision I ever made."
PA school marked the start of Dr. Korman's long medical odyssey. She recalled the sense of camaraderie between the students who were part of Touro College's first physician assistant class in 1972.
"We had all different types of people from different walks of life; we were 22 people from diverse backgrounds," recalled Dr. Korman. "We were together in our training, and our training was so intensive. I can't tell you how many hours we spent together in our classroom. We had fun, despite the intensity."
Dr. Korman credits the PA school with honing her clinical skills. At the time, the Touro building was across the street from Kingsbrook Jewish Medical Center. "We started working with patients immediately," said Dr. Korman. "Our training was patient-focused—while we were getting the didactic work, we received the clinical side from the get-go."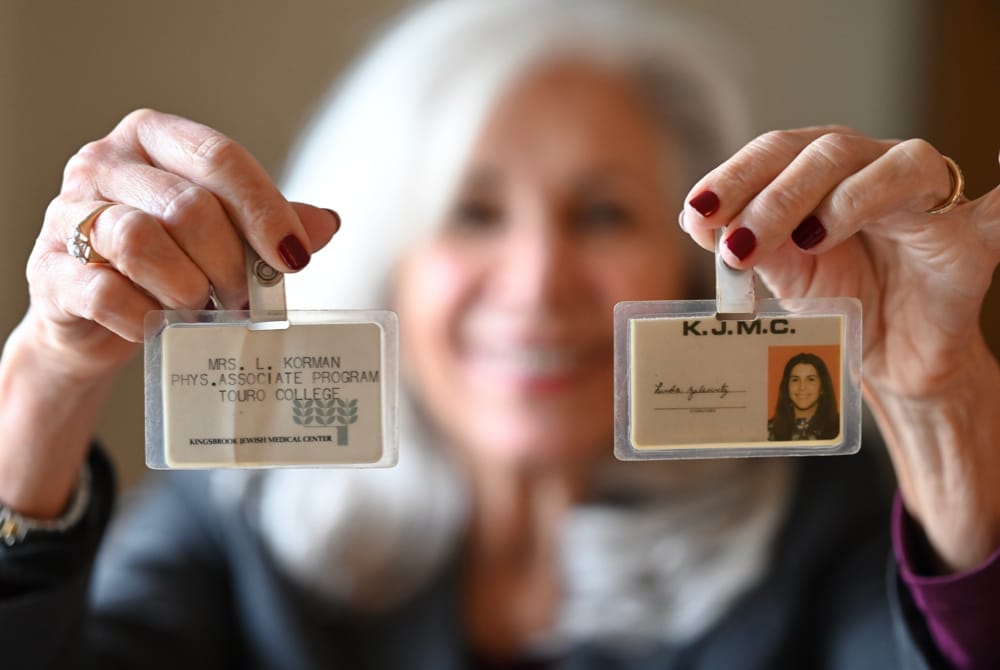 Dr. Korman's IDs for Kingsbrook Jewish Medical Center from her time as a student at Touro's PA Program
The focus on patient-centered care would leave an indelible mark on her. After graduating, Dr. Korman spent the next four years at the Brooklyn VA Medical Center, where she worked as a PA on a general medical floor.
"I can't tell you how much I loved the job," said Dr. Korman. "I was practicing medicine essentially as a doctor." Dr. Korman felt confident enough through her PA skills to apply to SUNY Downstate's medical school, which oversaw her department.
"Being a PA during medical school had some challenges since I already had the skills to perform the procedures and care for the patient that the interns were supposed to be doing and learning," she said. "But overall my PA training was an asset."
After finishing her residency in 1985, Dr. Korman worked as a staff internist in two associated practices. Eventually, Dr. Korman fulfilled her dream and launched her own practice. "I absolutely loved having my own practice," she said. "It was everything I ever wanted. I took calls from my patients at any time of the day, I knew everything that was going on with them. I was what today you might call a concierge doctor. I believed in the model."
Gradually, running her own practice became more and more difficult with the advent of managed care. "There were so many administrative tasks you had to keep hiring people to perform it became unaffordable," said Dr. Korman who eventually sold her practice.
Dr. Korman's next role was in Robert Johnson University Hospital where she served in administration and as a physician advisor. Following that, she served as Medical Director and Vice President of Care Coordination at Saint Peter University Hospital.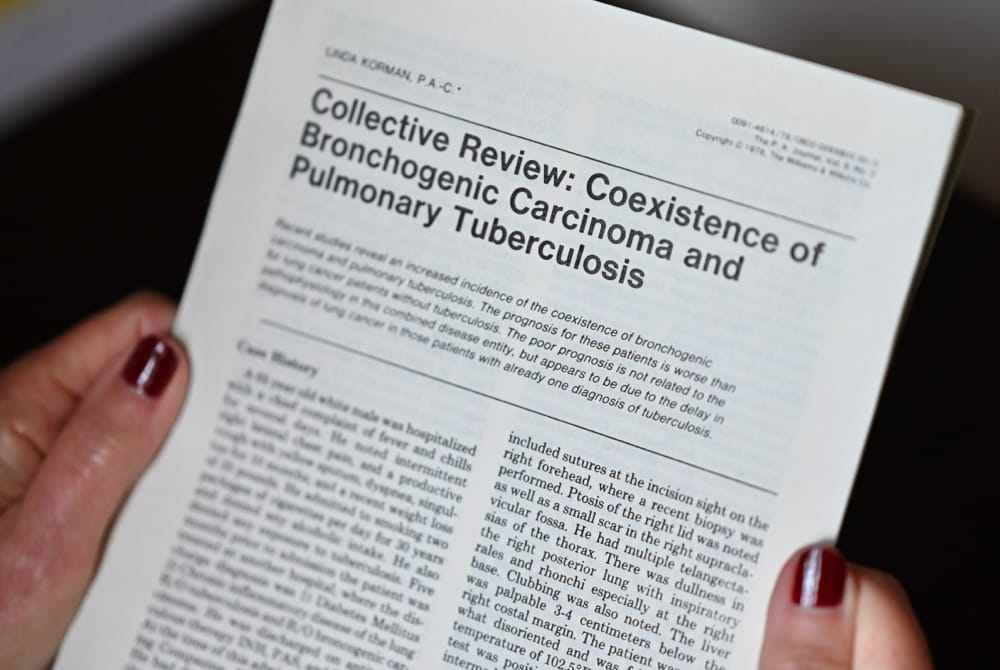 Korman's research published in the 1978 PA Journal, "Collective Review: Coexistence of Bronchogenic Carcinoma and Pulmonary Tuberculosis"
Along the way, Dr. Korman advocated for her fellow physicians and her patients as president of the Middlesex County Medical Society, and as a member of the American Institute of Healthcare Quality, American College of Physician Executives, American College of Physicians. She is a longtime member of the Board of Trustees of the Medical Society of NJ—a role in which she continues to this day. She received the East Brunswick Recognition Award for Service to the Community in 2003 and served as continuing education faculty in several universities.
Dr. Korman left practice in 2010 and laments the changes in medicine, particularly the loss of the patient-doctor relationship. She continues to strongly advocate for evidence-based medicine taken in the context of each patient.
"There's an art to medicine," stated Dr. Korman. "Eliciting the history of patients is one part of it. The other part is taking all the information you have and putting it together to get a diagnosis and knowing something about the patient—whether it's a sensitivity to a particular drug or adherence to a drug regimen. The art piece of medicine is knowing how to put it all together and being able to determine what the best for each patient. We've done many studies putting doctors up against algorithms and apps. Time and time again, the patients who have the human being with medical training have better outcomes. That's what's lost if you only use computerized guidelines."
In the last three years, Dr. Korman's story has come full circle. Still in love with medicine, Dr. Korman took a position with Physician Advisor on Call, where she reviews medical charts and records and determines medical necessity; she often discusses cases with health insurance companies when medical procedures or hospital stays are denied.
"In my experience, no one stays in the hospital without a reason," said Dr. Korman. "Part of my job is to find the reason. Ultimately, I'm here to help people. That's the idea that I had when I started PA school and I carry it to this day."
She said that she relies on the clinical skills she developed as a PA for many of her cases.
"Touro put me on my career path and I'm very thankful for that opportunity," said Dr. Korman. "I can look back and say that I'm very proud of what I did with my life."