Breaking Barriers
Dr. Mill Etienne Works to Reform Medicine from the Inside
February 14, 2023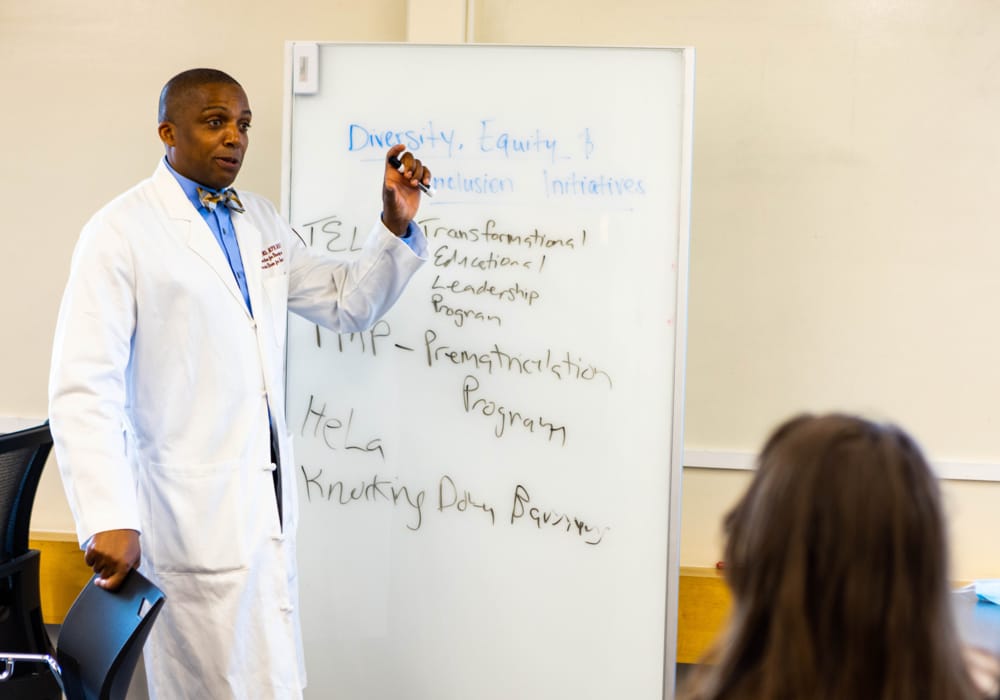 The career of New York Medical College's (NYMC) Dr. Mill Etienne is a story of breaking racial barriers. "Sometimes I'm mistaken for the kitchen staff, the patient transport; I've been mistaken for really every position imaginable aside from a physician," explained Dr. Etienne, MD, MPH, FAAN, FAES, who serves as New York Medical College's Vice Chancellor for Diversity and Inclusion, an associate professor of neurology, and as Associate Dean of Student Affairs. "Oftentimes during my schooling, I was the only African-American."
Dr. Etienne, an alumnus of New York Medical College and a practicing neurologist with subspecialty training in epilepsy and clinical neurophysiology, said his own history influences how he approaches his students and practice. "I want the students, faculty, and patients in our system, to have the feeling that they belong."
This sense of belonging, Dr. Etienne said, is built into the DNA New York Medical College, and its parent institution, Touro University.
"New York Medical College, soon after it was founded, began training female doctors," explained Dr. Etienne. "This was at a time when the consensus in the country was that women shouldn't be educated. But New York Medical College was making women into doctors. New York Medical College did the same thing with African Americans. NYMC was willing to take men and women who were just coming out of slavery and train them to become physicians. And when many parts of the country denied Jewish people admission, saying you will not be admitted because you are Jewish, New York Medical College admitted them. It didn't matter what you were or who you were: New York Medical College fought against any discrimination."
From Humble Beginnings to the Upper Echelons of the Medical Establishment
Dr. Etienne was born in Port-Au Prince, Haiti, one of the world's poorest regions.
"A lot of my interests in helping those who are underserved is because I came from that same background," said Dr. Etienne. "I do remember what it's like to have less access to foods and to not see physicians on a regular basis. I remember all those elements of my childhood and what I find most fulfilling about my career is the fact that I'm able to take care of patients, give them high-quality care regardless of their ability to pay, and at the same time be able to teach students how to give that high-level care."
When his family relocated to the US, he quickly discovered the importance of representation and positive role models for his peers.
"During my junior high school years, I started hosting a local television show, which was aimed at showing positive role models to children in the community," he said. "I wanted children to know, particularly Black and Hispanic children, that they can become doctors and lawyers."
Dr. Etienne's early interest in science, combined with a strong sense of community, led him to medicine. "I chose medicine because of the fact that I'd be able to use sciences to help people," he said. "I've always been somebody who does a lot of community service and tries to find ways to help others, and medicine seemed like a really great fit for me to be able to do that."
A psychology course in high school had an impact on determining what area of medicine he would focus on. "I fell in love with learning and understanding how the brain works," said Dr. Etienne. The interest continued as he attended Yale University where he studied behavioral neuroscience. After graduating from Yale, Dr. Etienne enrolled in New York Medical College.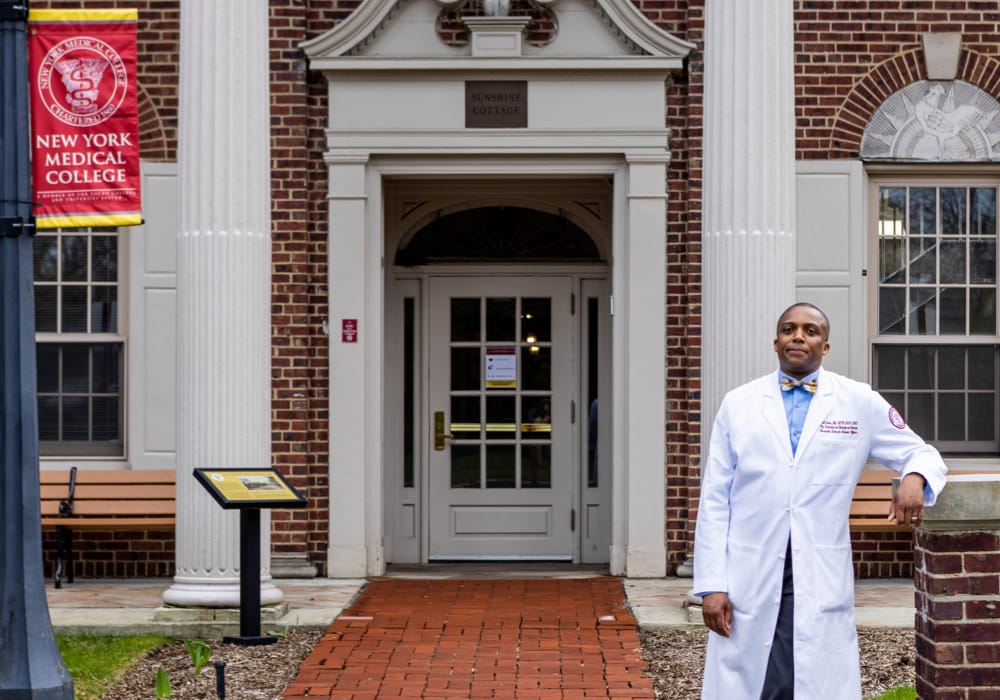 "Neurology had a natural attraction for me since I would be able to continue with that passion for understanding the brain," he said. His neurology rotation in his third year confirmed it. "It made me realize that neurology is exactly what I want to be doing," recalled Dr. Etienne. "I wanted to be taking care of patients having seizures, migraines, dementia, myasthenia gravis, and a plethora of other disorders. Oftentimes they were seen by other doctors who couldn't help them, and so, they were appreciative of the neurologists when they got to the neurology clinic."
After graduating from New York Medical College, Dr. Etienne attended Columbia University where he did his neurology residency and subspecialty training in epilepsy and clinic neurophysiology. However, simply becoming a neurologist wasn't enough for the civic-minded Dr. Etienne. "I wanted to have a bigger impact on the world. Helping one patient at a time is helpful for that one patient, but I want to help the entire system."
A Larger Impact
While volunteering at a Harlem hospital, Dr. Etienne saw firsthand the cost of health disparities in the lives of his patients.
"A lot of patients had no other option than using the ER as their primary care clinic," said Dr. Etienne. "There would be all these notes on patients about how they were 'non-compliant' when it came to medication regimen, but really, they couldn't adhere to their medication regiment because of socio-economic challenges."
The importance of social determinants of health—factors like location, access, and income—that affect care were also made clearer to Dr. Etienne during his residency.
"Patients were coming in with strokes that could have been prevented," he explained. "The reason that these people were having strokes was because of so many factors in their communities: lack of access to adequate medical care, lack of access to medications, what we now call food swamps—lots of fast food restaurants and other things that are detrimental to the community. At the same time, they were food deserts, where you're not getting access to fresh produce and other fresh foods, which help with your health."
These structural determinants of health also convinced Dr. Etienne to earn a master's in public health. "I wanted to get a much broader understanding of what are the other important things that determine a patient's health outcome."
A Life of Service
Dr. Etienne's fourth year of medical school coincided with 9/11. Inspired by the patriotism in the wake of the tragedy, he joined the Navy and was commissioned while still a resident. In the Navy, Dr. Etienne made a startling discovery.
"I found that there was no comprehensive epilepsy center in the US military," he said. "There was going to be a large increase in post-traumatic epilepsy in the US military, given that traumatic brain injury was a signature wound of the Iraq and Afghanistan wars."
Dr. Etienne served as the founding director of the Comprehensive Epilepsy Center in what is now the Walter Reed National Military Hospital. His service and association with the navy continued long afterward. In 2010, after Haiti was hit with a devastating earthquake, Dr. Etienne was one of the physicians on board a navy ship sent down to aid the country.
"I was born in Haiti, and now I was serving the US in uniform, but also helping my birth country at the same time," said Dr. Etienne. "It was really a remarkable feeling to be there. And I remember the patients on the ship looking at me and it made them feel that we're going to take good care of them, that the US sent a native of Haiti down to help provide that care."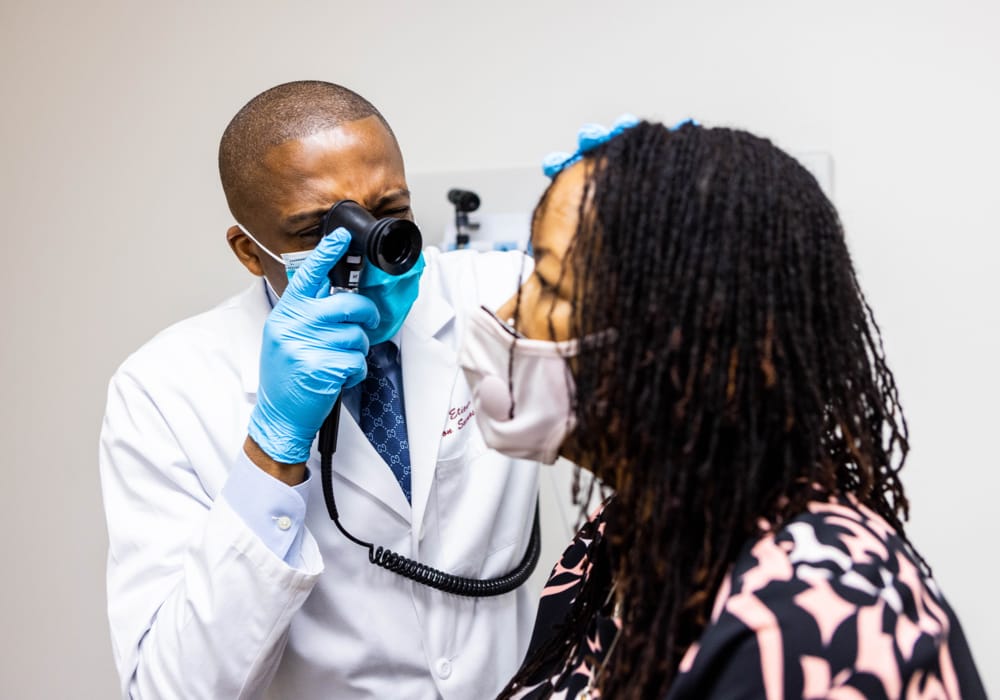 Dr. Etienne helped set up an interpreter department to ensure that patients received proper care and worked to provide the island with neurologists.
During the Covid-19 pandemic, he was again called up and served as the Chair of the Health Equity Task Force for vaccine distribution in the Hudson Valley.
"We looked at the zip code data and found out who wasn't getting vaccinated," said Dr. Etienne "Then we sought to understand why they were not getting vaccinated: did they need more information? Did they need a special kind of meeting to go through the risks and benefits of the vaccine? Did they need a better understanding of COVID? Are there fears that they have based on historical abuses, or historical events that have happened in the US on marginalized populations? Giving those people that education, getting them comfortable with the vaccine, getting them vaccinated to really ultimately decrease their overall mortality, to me was extremely important, which is why I ended up serving as the chair of that task force."
As replete as his career is with accomplishments and large moments, Dr. Etienne said that the smaller moments resonate equally with him. He recalled treating a young woman in the ICU who was experiencing non-stop seizure activity. "She wasn't my patient and I would only see her in the ICU when she was admitted," said Dr. Etienne. After a few visits, the family transferred her to his care. "Over the course of the next year, I got her seizures under control," he said. "She became seizure-free and she brought me a nice card which said, 'You're my guardian angel.'"
"She had wanted to be a nurse, but couldn't go to nursing school because she was having too many seizures," continued Dr. Etienne. "She couldn't drive; she couldn't do so many things. And since we were able to make the seizures go away, we gave her an opportunity to live her life in the way she wants to live it. It was extremely touching. It made me feel that I was able to give someone their life back."
A Return to His Alma Mater
Years after he graduated, Dr. Etienne moved back to his hometown, near New York Medical College. He received a call from a faculty member in his alma mater to join the board. Soon his role expanded to his current position in the school.
"I would say my interest in education starts from when I was a child growing up where I greatly appreciated my teachers," explained Dr. Etienne. "They were teaching me, they were taking the time out of their day. The way I looked at them, they were imparting knowledge to me and pushing me to reach whatever goals I had at the time. Originally, I wanted to be a teacher. Eventually, I figured out that you could be a teacher and be a doctor at the same time."
Aside from teaching courses in neurology, Dr. Etienne also teaches an elective on medicine in war and practicing multicultural medicine. In the latter course, he focuses on social determinants of medicine.
"As the pandemic started in 2020, numerous former students started sending me emails," said Dr. Etienne. "They thanked me for the multicultural medicine course; they wrote: 'We're seeing it firsthand, and we're the only ones in our residency program, who even understand why certain patients are dying disproportionately to other patients. '"
In addition to all his work, Dr. Etienne tries to leave his students with a simple message that echoes Touro's mantra.
"We are all human beings at the end of the day and we have to take care of each other," he said. "I think that's the way I kind of view the world, is that that's one of the most important things you could do is take care of other people and help them. I view Touro's legacy as creating high-quality health professionals who are going to be, and who have been, contributing immensely to the community."
"Touro's made it to 50 years and there are another 50 years on the horizon. We're starting the next 50 years right now. We want to see more health professionals getting that excellent training, and we want to see our communities getting that better, higher level of care. And by graduating more students, we're getting those people out there into those communities to give patients the help that they need."